Read our story, explore our sustainability practices, and learn about our charitable giveback programs

Studying abroad in Germany during college, founder Maria Boustead came to love biking as her way to get around. It was eco-friendly and affordable, and she got a little exercise and adventure along the way. It was also super fun, reminding her of the magic of being a kid on a bike. Moving from Germany back to Chicago—one heckuva flat, gridded city—was a pretty excellent biking decision.
Maria had the bike, but now she needed the bag. As a bicyclist and a professional industrial designer, she had a lot to carry for everything from commuting to working to meeting up with friends. And, there was a need for a bag that could go along for the ride and look good while carrying throughout her day.
Po Campo brings Maria's product design background to her love of cycling. She couldn't find the bag that worked on the bike and off, so she made one. No more sweaty straps, no more distractions, no more drab and dreary colors. #Bikeandbefree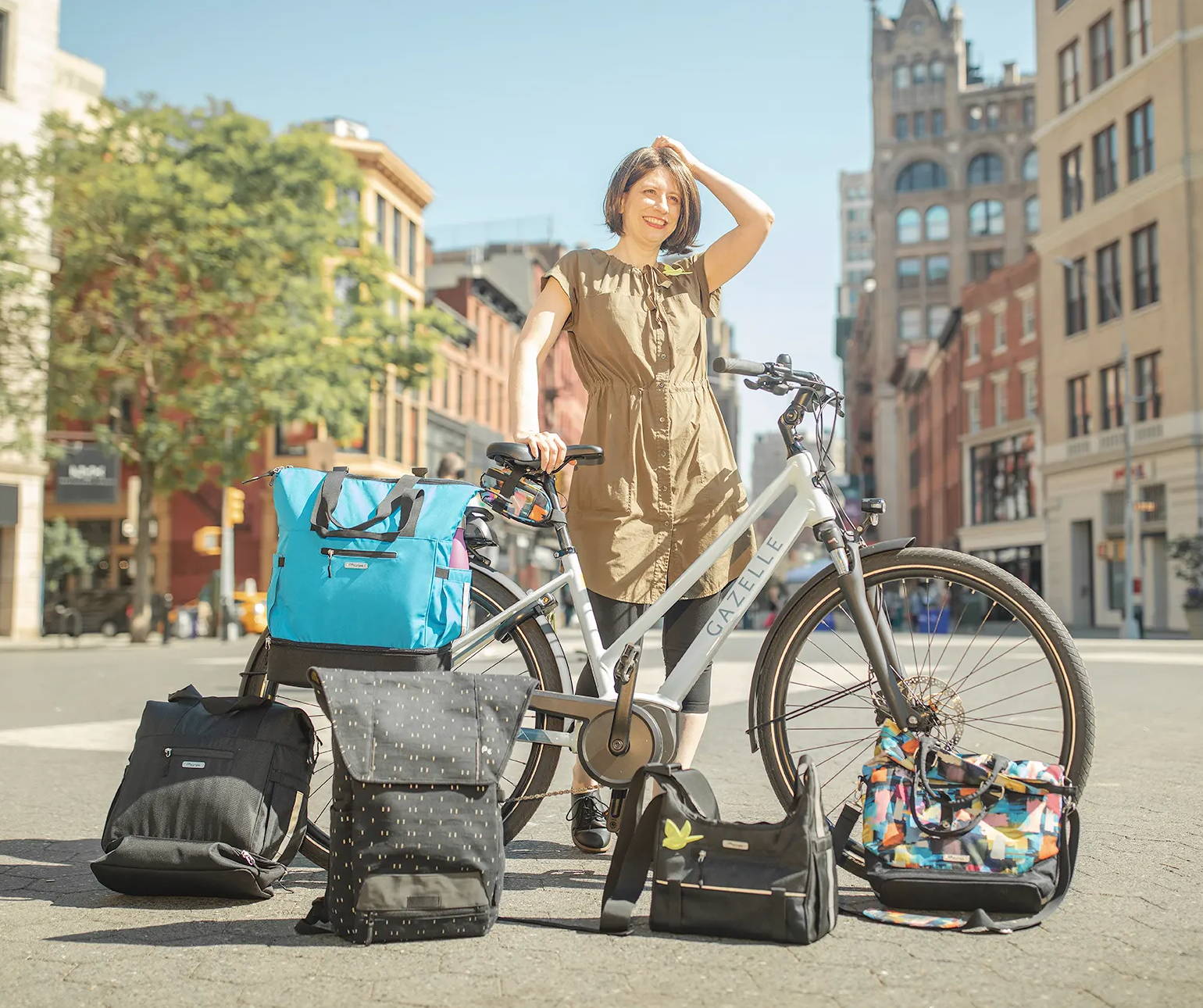 The number of people who love biking, skating, and scootering around town continues to grow. There are protected lanes, dedicated traffic signals, and booming efforts to bring bike shares and e-scooters to cities around the world. That makes us so happy, and it also shows us a clear (bike) path to our future
Growth for Po Campo means listening to all the people who matter—our community of intrepid urban mobility kindreds—and designing for you. Our tight-knit, global team works from New York City to Ho Chi Minh City, connecting with alternative transportation communities everywhere to stay on top of everything from trends to advocacy. We promise to keep evolving to be more sustainable, more functional, more inclusive, more innovative, more awesome from bags to beyond.

Be Bold. You know what sucks? Stasis. The same old, same old. Confidently being ourselves and taking on challenges leads us to explore new avenues, new connections, and new experiences.
Be Purposeful. Impact matters. Every part of our business has the power and potential to move us forward – or backward. Do things, the right things, for reasons that matter.
Be Engaged. Urban mobility takes us places. We live in a multicultural, multi-sensorial environment. We can choose to thrive through inclusivity and by valuing different viewpoints.
Have Fun. Life's got its ups and downs. Why not laugh along the way? A good guffaw is the absolute best way to capture the childlike wonder biking, scooting, and skating are all about.
When you're founded by industrial designers, you tend to take design seriously. Versatility, functionality, and style are the heart of our "No Compromise" approach. Po Campo is passionate about making thoughtfully designed, thoroughly user-tested bags. You don't, and shouldn't, have to choose between a mobile, sustainable lifestyle and a bag that you love.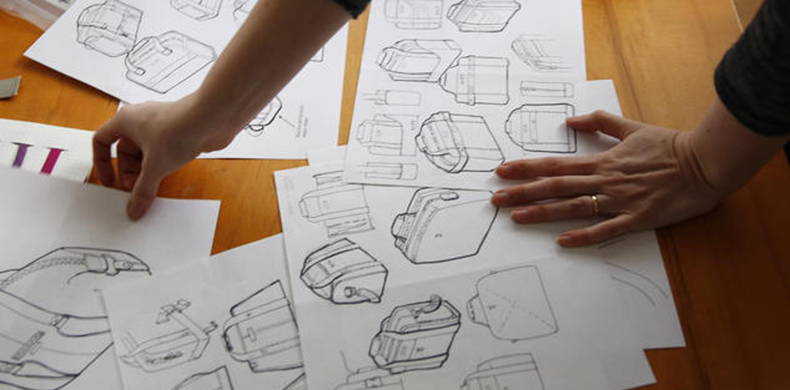 Our Sustainability Practices
Strides Towards Sustainability
At Po Campo, we believe that you shouldn't have to sacrifice sustainability for premium design and function. Since our establishment in 2009, we've been dedicated to empowering people to live a more sustainable lifestyle by utilizing bikes and scooters. Then, in 2018, we made a commitment to center sustainability in our work and growth. Here's an overview of strides towards becoming a more sustainable brand:
In 2018, we launched our Quest for Sustainability video series that documented the beginning of our journey to become a more sustainable company, featuring interviews with industry experts.
In 2019, we introduced the Sustainable Slate color in Repreve® fabric, made from 100% recycled water bottles.
In 2020, we eliminated the single-use polybags from our primary packaging.
In 2021, we introduced Visi-Hemp®, our proprietary blend of organic hemp, recycled polyester, and reflective yarns. This fabric is Oeko-Tex Standard 100 certified.
In 2022, we switched 80% of our lining fabric to 100% recycled Repreve® lining and we introduced a new black color that is a 100% recycled ripstop fabric.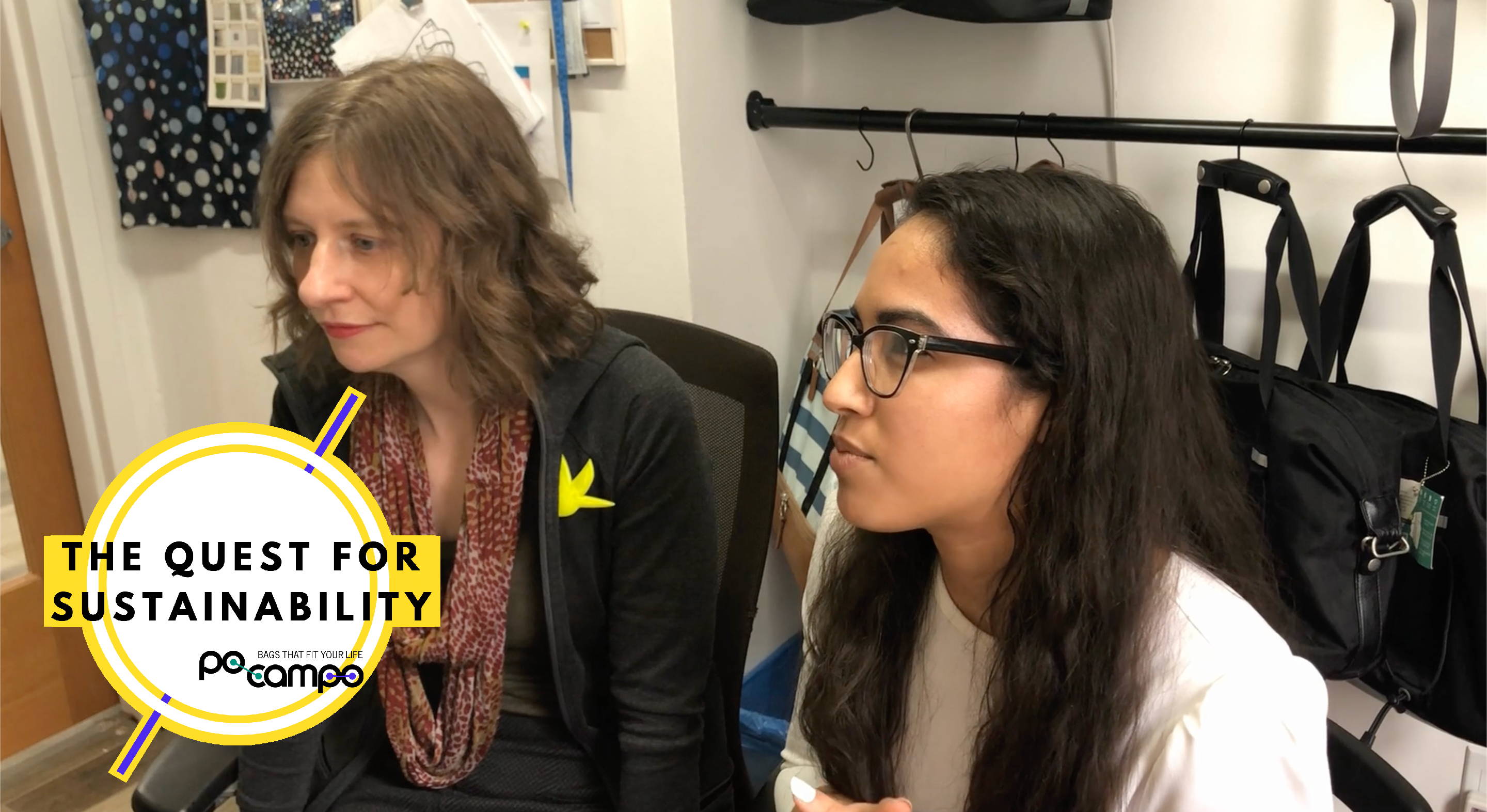 We're product people! So naturally the first place we look is how we can make our bags better. And fabric is the perfect place to start.
Visi-Hemp® fabric
Our proprietary blend of organic hemp, recycled polyester, and reflective yarns; this fabric is Oeko-Tex Standard 100 certified. This fabric is used in our City Lights Collection.
Hemp is a renewable natural plant fiber with a long history of being used for things like ropes and heavy canvas because of its long-lasting durability. Even better, hemp needs no pesticides, herbicides or defoliants and uses far less water to produce than other natural fibers, like cotton. It grows quickly and even returns a portion of the nutrients it takes from the soil.

Recycled polyester (rPET) is made from existing plastic, such as water bottles, rPET is a durable and versatile synthetic fiber. It keeps plastic out of landfills and water supplies, uses less energy and lower greenhouse gas emissions, while minimizing dependence on virgin petroleum-based materials.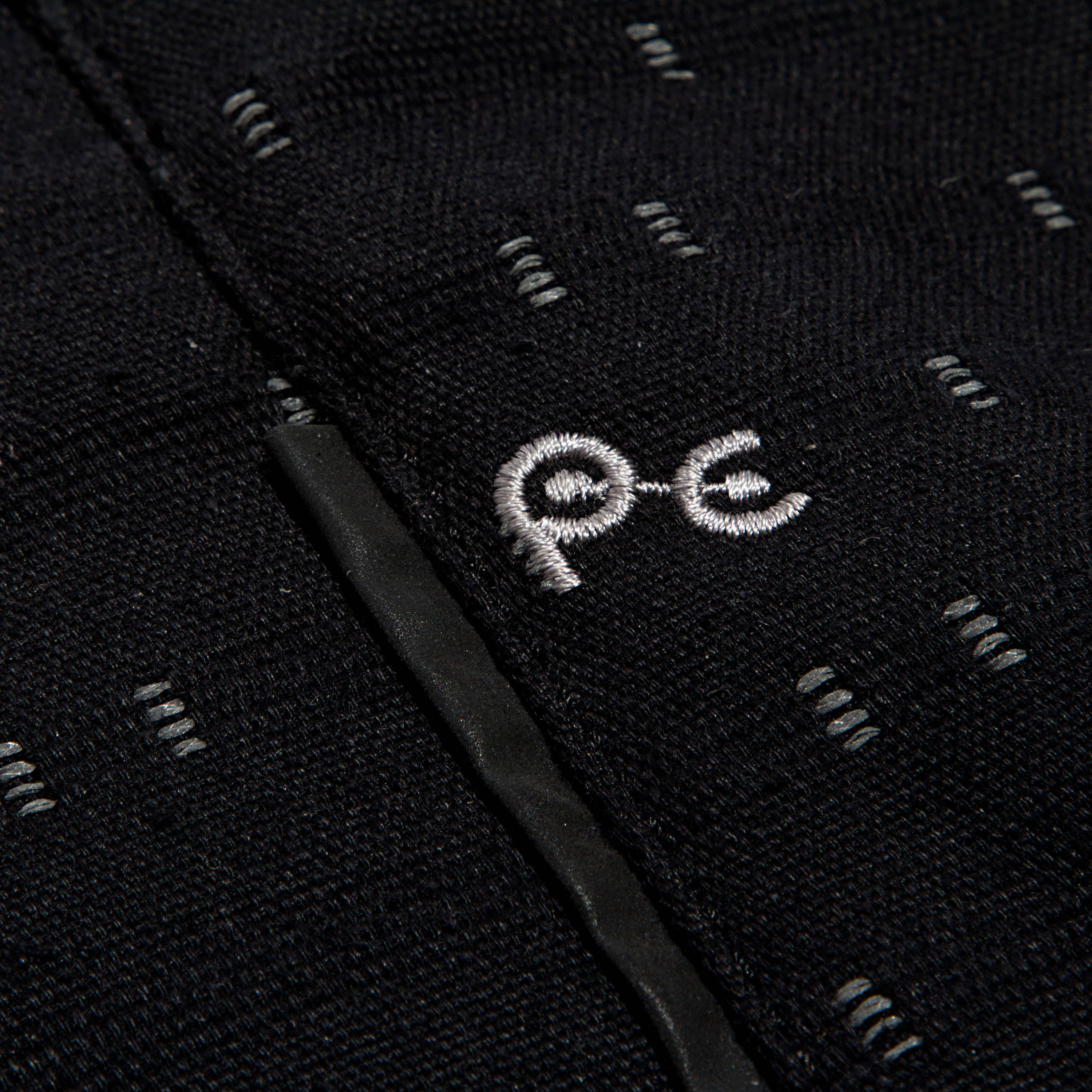 Repreve® recycled lining fabric
We're proud to incorporate Repreve® recycled lining fabric into our newest Core Collection bags. Unifi, which makes Repreve®, has recycled over 25 billion plastic bottles. Watch this video to see how it's done:
Chemical Compliance Policy
We comply with CA Prop65 and REACH standards and base our Chemical Management Program and Restricted Substance List (RSL) policy on the restrictions set forth by those regulatory bodies.
Waste Minimization and Recycling
In 2020, we eliminated the single-use polybags from our primary packaging.
Our warehouse recycles all cardboard boxes.
We partner with EcoEnclose for our polymailers. They are made of 100% recycled content (50% post-consumer waste content), and are recyclable in any stream that accepts thin film. Learn more about the EcoEnclose Plastic Film Take Back Program here.
Social and Ethical Standards
Po Campo expects all vendors of merchandise to meet rigid standards regarding association, child labor, discrimination, environmental laws and regulations, forced labor, and remuneration.
We also partner with a boutique factory that adheres to our Code of Conduct and maintains solid relationships with certified-sustainable suppliers. To learn more about the boutique factory and the work they do, check it out here.
For more information, you can view our Code of Conduct here.
Diversity and Inclusion Guidelines
Po Campo is committed to diversity and inclusion as we work with our diverse employees, customers, partners, and communities. We believe a diverse workforce and inclusive culture is key to our success as a business and can never be compromised.. All qualified job applicants will receive consideration for employment without regard to race, color, religion, sex, sexual orientation, gender identity, age, national origin, or protected veteran status and will not be discriminated against on the basis of disability.
As part of our commitment to inclusive marketing, we embrace an anti-exclusion approach to creating content, which we define as consciously and deliberately using inclusive language and imagery across our brand guidelines, internal brand strategy, website, social channels, PR messaging, and creative. We actively audit and correct our language as it relates to current affairs and world events.
In order to fulfill our commitment to inclusion, and in acknowledgement of a history of white supremacy in the design, bike, and outdoor fields, we have a list of guidelines that we follow, across marketing, design research, and product management. By ensuring that all of our actions are guided by this list, we are able to meet the needs of a diverse population. To view these guidelines, please send a request to info@pocampo.com.
We always seek to learn from our customers and welcome any and all feedback. Please email info@pocampo.com if you have questions or concerns.

Your Purchase. Your Choice. Our Donation.
Po Campo strongly believes in giving back. We believe in our social responsibility to give back to our society through sustainable manufacturing processes and a lower carbon footprint, to advocacy and donating dollars. All to help fuel a better world we live in.
This is where YOU come in.
Po Campo has long had a vibrant give back program, partnering with World Bicycle Relief and supporting local and national bike advocacy organizations over the years. Eventually we landed on the realization that our customers have a better sense of what charitable causes and organizations are important to them than we do.
For every Po Campo bag purchased on pocampo.com, we give 1% of its MSRP to a charitable organization of your choice.

Our partnership with ShoppingGives gives you access to over 1.5M US-based 501c(3) nonprofits, from local to national.

We also reserve the right to de-list charitable organizations that do not support a positive lifestyle.
We have established relationships with these charities, in case you have trouble choosing
League of American Bicyclists
We have supported local and national bike advocacy programs since 2013 with product donations. Work with a non-profit and looking for silent auction donations? Please complete our donation form.
Our founder, Maria Boustead, has served as an Executive Board Member with the League of American Bicyclists since 2017 - an organization dedicated to creating safer roads and strong communities for bicyclists.