A smooth ride home from the grocery store
With this one, you and your groceries will go the distance. It easily attaches to almost any bike rack with simple hook attachments and features an additional top cinch hook that keeps everything secure.
There when you need it, gone when you don't
When you're on the road, the bag's reflective tabs keep it closed and your bike safely visible. Done with shopping? Fold it up flat and forget about it until next time.
Big 'Ole Bag for Fully Loaded Trips
Need to make a big grocery shop? Going out for a day at the beach? This bag's incredible 26L capacity fits what you need.
All in the details
We designed this bag to meet your needs and surpass your expectations. Just check out these tech specs:
| | |
| --- | --- |
| Size | W 12.5" x H 17" x D 7.5" |
| Volume | 26L |
| Weight | 1.5 lb |
| Max Load Capacity | 15 lbs |
| Water Resistance | Coated fabrics and zipper |
| Nighttime Visibility | Reflective accents for extra visibility at night |
| Pockets | 1 Exterior Pocket |
| Strap Details | Tote handles/strap |
| Critical Dimensions | Hooks fit rear rack tubes of 17mm ø |
| Attachment Style | Strong metal hooks |
Woman Owned + Operated
Po Campo was founded by industrial designer Maria Boustead who still leads our team.
Our Story
Your Purchase. Your Choice. Our Donation.
For every Po Campo purchased, we give 1% to the charity of your choice.
Learn More
---
Customer Reviews
Write a Review
Ask a Question
05/05/2022
NanciG

United States
Knocked my socks off
I thought that this pannier would be useful for specific errands, but quickly learned that it's so much better than I ever expected. After running errands with this pannier for one weekend, its now my new favorite pannier. I was delighted that I could keep the tabs velcroed closed and still drop in small items, open the bottom tabs for medium sized loads, and open the bag fully for large grocery runs. The bottom hook makes a great stabilizer on my rack (Salsa Wanderlust HD) and is exactly the perfect length (your rack may have different measurements). It is four inches taller than my regular panniers and those extra inches saved me on my last grocery run. I love the front pocket for other items. A terrific pannier that is sure to become my new go-to errand bag. For the Orchard 2.0 there are a few tweaks that would make this awesome pannier even better - Orchard Deluxe maybe? I would lengthen the hooks about a half inch and move them a half inch closer together. They just barely fit on my rack and are so close to the edges that they don't quite seat correctly and the bottom hook is critical to keep the bag secure. An on-board rain cover would also expand the functionality of this pannier.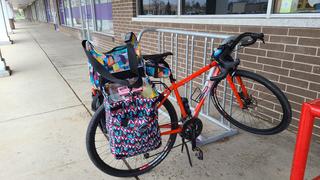 05/03/2022
Maria

United States
A must-have for grocery runs!
I've been using Po Campo's Bergen Pannier for years but wanted something a little bigger that I could use for a grocery shop or just for hauling a bunch of stuff. The Orchard is perfect! I was impressed by how much it could hold, and like the hook on top to keep the bag from flopping out. I generally don't use the pull down hook because the weight of the bag keeps it in place.
04/21/2022
Marty C.

United States
We need more of these
We just moved to a great location with a nearby grocery store. Everyone in the family (12,14, and 2 parents) is able to pop over to the store to get groceries. The two Orchards are basically in constant rotation. I generally take the bags inside with me and hook them on the sides of my cart. That way, I don't over-buy. The volume of this bag is fantastic and yet it folds flat on the bike when empty. We packed it flat to go out to eat because I know that take-out boxes are inevitable with my family. I was right.... my next-day lunch was secured with the help of this simple pannier. I love the hook on the top. For less than full loads, I pull the hook through the loop and secure the bag to my rack. It gives me a nice sense of security. When I ever have heel strike - I push the bag back on my rack a bit - it solves the problem for me. I noticed that the stiff board at the bottom can come out - I like that I can pull it out for cleaning and if I ever need a thicker board down there, I can just add it. nice detail!
04/21/2022
Sandra V.

United States
My 2 new panniers
I rarely like pattern, but the Chevron design is beautiful. Stitching is well done.
04/21/2022
Mary P.

United States
Our go-to bag for grocery shopping
I love this bag. I can fit SO MUCH stuff in it. It became our go-to bag for expanding capacity on our cargo bike. We have a box bike we use for grocery shopping and when I know I will need more capacity, I always bring this bag. It is also super useful when we have all our swim stuff. So kids sit in the front and all the towels, clothes etc fit perfectly in this bag on my back rack. I also use it with my "regular" bike. I can fit a ton of stuff, and the straps/hook on the top allows me to feel like it is more secure.